Enthralling Switzerland Villages You Should See to Believe
Adelboden
Adelboden is nestled in the Bernese Alps and is one of the country's most popular alpine villages. A famous ski destination during the winter months, Adelboden is acclaimed for the FIS Ski World World Cup hosted in January every year with its impressive ski terrain of 53 miles perfect for skiing, sledding, and snowboarding.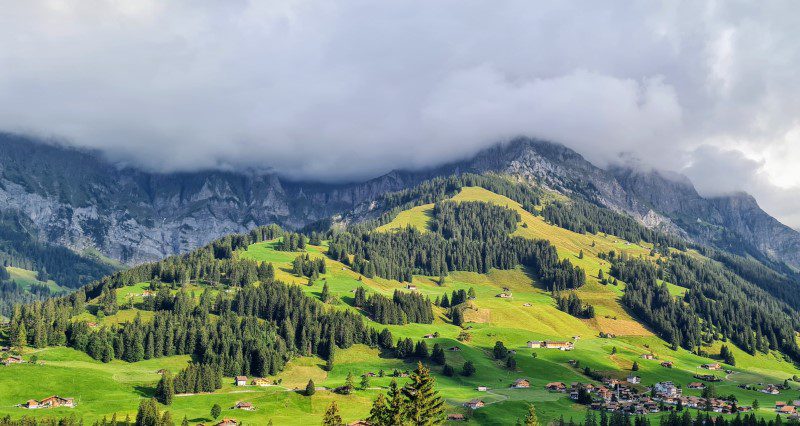 During the summer months, the village also offers more activities to try for its visitors, including mountain biking, hiking, and riding a Trotti bike down the paved mountain trails. The alpine area surrounding the village features an extensive network of hiking trails for all ages and abilities, including the famous Vogellisi trail made for families and children, as well as the hike that will take you on top of the majestic Engstligenalp waterfall.
After spending a day breathing in the fresh and rejuvenating mountain air, the visitors can also spend time at one of the many cafés or restaurant patios in the charming main street of the village, or Dorf. While there, don't miss the chance to relish a delicious fruit tart or an apero and follow it with a traditional alpine dinner of raclette or cheese fondue.
Getting to Adelboden is very easy because it is only 90 minutes by bus and train from Bern, the Swiss capital. 
Champex-Lac
Snuggled in the stunning Val D'Arpette, the tiny Champex-Lac only has 500 permanent residents but is currently popular among visitors who come to enjoy a lovely hike in summer, fantastic skiing in winter, and the scenic views all year long.
The perfect time to visit this village in Switzerland depends on the activities you plan to do. During winter, Champex-Lac transforms into a wonderful ski resort both for cross-country and downhill, as well as skating on the lake water's gorgeous reflective ice.
Fall and spring are the quietest times of the year here although it might be a bit tricky to predict the transition between these seasons so it would always be best to keep your mind open to any activities suitable for the weather.
Once the summer season comes, Champex-Lac becomes a phenomenal hiking destination and is among the most critical stages of the outstanding Tour do Mont Blanc, the 105-mile trek around the mountain dubbed as one of the greatest hikes in the world.
The village also got an exciting selection of excellent dining spots, such as the acclaimed Restaurant La Table du Glacier where you can bask in the mountains' stunning views while enjoying the delish local specialties.
Similar Posts: